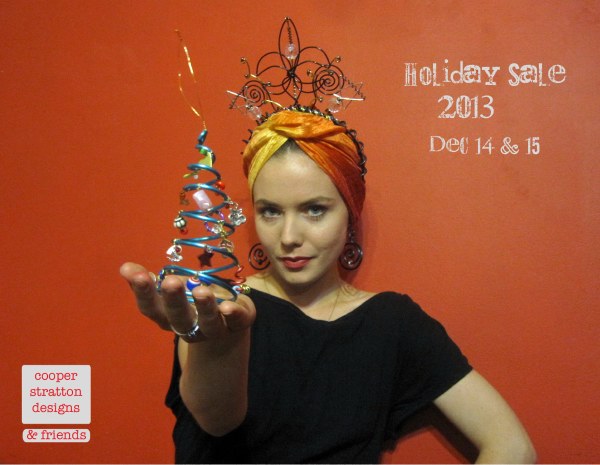 Annual Holiday Sale--come on by!
LOCATION: 8225 Birch Street, NOLA 70118 ***** call 914-6802
11 to 6 both days
Featured artists: Cathy Cooper-Stratton, Chris Menconi, Ker Grabowski, Page Moran, Laura Jane Yarbrough, Betsy Myers-Green (Saturday only) and Bonnie Miller (Sunday only).
You'll find a selection of Cathy's anodized aluminum items, ceramic dogs (special orders can also be made), hand-painted silk scarves, ironic folk art, fiber art and jewelry.
------------------------------------------
You can also visit us at the Arts Market in Palmer Park, corner of Carrollton and Claiborne, New Orleans, on Saturday, December 21, 2013 *** 10 am until 4 pm
"Laisez les bon temps roulez!" There are a lot of serious things we have to do in life. Big decisions. Responsibilities. There are people who depend on us to do what needs to be done. You feel pressure--like your head's about to explode! Well, don't go postal--let the steam off in a positive way. Dance! Get down! Get funky! "Laisez les bon temps roulez! -- Let the good times roll!"
So are you ready to liven things up? Then check out our unique line of
tiaras & scepters
--there's nothing like them to brighten your day. They make great birthday gifts.
Wear art everyday with one of our colorful
eyeglass
leashes
or ID tag leashes. Make an impression at your next dinner party with our unique
napkin rings
.
Dare to be colorful! Make a statement! Push back the grey in life by adding some color to your own!
Check out the links at left. Enjoy our web site. And
let us know
what you think.
Your privacy is important to us. We never share e-mail addresses with anyone.