Cathy is the Cooper in Cooper-Stratton Designs (CSD). She has a fine arts degree and it drives her nuts when people call her work "cute" or "whimsical". She's always so serious, as all her know her well will attest. (They say comedy is serious business.) The Stratton in CSD is the surname of Cathy's husband and partner, Jim. He generally helps around the edges with quiet encouragement, a design idea or two and brute labor. He is never critical. And he is modest. As he is known to say, "I never lie and I'm always right."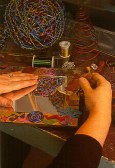 Cathy grew up in New Orleans, which probably explains a lot about the CSD style. It is a style that is steeped in the local Mediterranean-African- American Indian-Caribbean cultural gumbo. Cooked in the Louisiana's heat and humidity over centuries, it has given rise to rich traditions in story telling, music, visual art, cuisine, dance, religion and other manners of expression and entertainment. It has yielded jazz, cocktails, Mardi Gras, gracious uptown entertaining, funky downtown nightlife…and Cooper-Stratton Designs.
The CSD style is at heart about celebration. It expresses a love of life through color and design. It is positive and life affirming. It is spicy. It says, "Wake up! The world is multicolored and multi-textured. Look beyond the grey shroud that has fallen over us. Life is to be lived!"
Carry this feeling with you by wearing a pair of Cathy's earrings. Bring it into your home with a colorful basket, ornaments, or jazzy napkin rings. Juice up a party or festival by wearing a funky tiara. Fight the grey!
What is Cathy Cooper's background?
She has a BFA in fine art from the University of the South in Sewannee, Tennessee. She was trained in anodizing at Penland School in North Carolina. She has also been a painter and a print maker. She has had training in Ashanti metal casting at Arrowmont and fold-forming with Boris Bally in New Orleans. She worked for Thomas Mann Design lo' these many years ago. Her mother trained her in the fine art of entertaining.
How did you get started doing this funky stuff?
The seminal influences are probably growing up in the festive culture of New Orleans and the Mississippi Gulf Coast, an eye for color developed as a painter and preference for a free-flowing, loose approach to drawing and sculpture. The jump-start into playing with anodized aluminum came from a desire to enter the world of contemporary jewelry design using a colorful palette. One of Cathy's first venues was the New Orleans Jazz and Heritage Festival, where she still exhibits each year, god and the jury willing.
Who is the main designer?
Almost all of the designs come from the fertile imagination of Cathy Cooper. Her partner, Jim Stratton, has made certain small contributions over the years.
What is Jim Stratton's background?
Jim is from Kansas. The tornado set him down in New Orleans instead of Oz. Not much difference, really, for a boy from the Great Plains. Jim's educational background is in architecture, anthropology, market research and financial planning. He likes to dabble with painting, music, graphic design and web site design. He is also a real estate development consultant.
Are Jim and Cathy a couple?
Yes. Married for more than 25 years, with a beautiful teenage daughter named Madeline who is an artist and musician in her own right.
As you look at our line bear in mind that we are a very small business specializing in handmade contemporary craft items. We do not keep a large inventory of most items. Many are made to order. This means that anything you buy from us will be a limited edition work of art in a unique style.
Keep coming back--we will add new items as they are developed.
Please look around our web site--it will brighten your day. Thank you.