Location: Entergy IMAX Theater lobby at the Aquarium of the Americas in downtown New Orleans.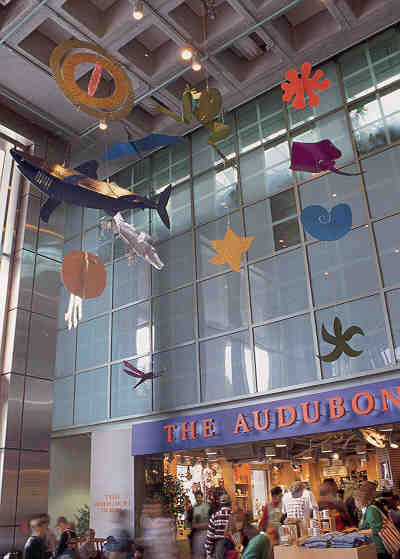 "Earth's Chorus" Sings At The Aquarium
Earth's Chorus is the name of the unique mobile sculpture installed in the 30-foot high lobby of the Imax Theater at the Aquarium of the Americas, in downtown New Orleans. The sculpture was commissioned by the Audubon Institute, which operates the Aquarium, the Audubon Zoo and the Louisiana Nature Center.
Earth's Chorus consists of 17 separate pieces which represent various aspects of biological life. They include a shark, alligator, sting ray, ape, lion, blue heron and a conch shell, among others. They range in size from nearly eight feet long to less than two feet. Each piece is made out of brightly-colored anodized aluminum. The overall length of the mobile is 20 feet.
Catherine Cooper, owner of Cooper-Stratton Designs, normally works at a much smaller scale. She began by making jewelry and has more recently moved into household items, such as wire flowers, baskets and mirrors, as well as a Christmas ornaments. Small mobiles have been part of the Cooper-Stratton line for several years.
"When the Audubon Institute asked us to submit a design for the Imax lobby the largest mobile we had done was only about four feet long", notes Ms. Cooper. "They were impressed by the colors and materials we work in, as well as our approach to design. The creation of Earth's Chorus was a great challenge and a wonderful learning experience. And we're very happy with the result."